Leaning Pine Arboretum
The Central Coast's Premier Horticultural Display Garden
Visitors are always welcome. Because plants change with the seasons, we encourage you to return often to enjoy the many varied highlights and vistas. The arboretum is open year 'round. Hours are from 8 a.m. to 5 p.m. Monday through Saturday, except academic holidays. There is no admission fee. Located on the Cal Poly Campus, the arboretum occupies five acres overlooking the campus with dramatic views of the nearby coastal mountains. 
Learn By Doing
Cal Poly San Luis Obispo is renowned for its unique "Learn By Doing" approach to academic instruction. In this tradition, everything you see in the garden has been designed, built, and maintained by students. The Leaning Pine Arboretum represents a collection of class projects, laboratory exercises and senior projects that have evolved over the past 50 years into the Mediterranean climate garden visitors experience today.  Our students see the results of their efforts and decisions, and learn valuable lessons that make them work-ready and knowledgeable citizens.
Visiting the Arboretum
The Leaning Pine Arboretum is located at the Environmental Horticultural Science unit at the end of Via Carta as part of the Horticulture Unit Bldg. 48.
Directions: From 101 North or South, exit Highway 1 / Santa Rosa Street. Turn Right onto Highway 1 / Santa Rosa Street, heading north. Turn right onto Highland Drive. From Highway 1 (coming south from Morro Bay), turn left onto Highland Drive. Once on Highland Drive, turn left onto Via Carta (at the third stop). Drive up the hill and park at the last parking lot on the left. Walk across Via Carta to the Environmental Horticultural Science facilities and follow the green signs to the Leaning Pine Arboretum. Or enter campus on Grand Avenue (exit from 101 North) and take North Perimeter Road. Turn right on University Drive. Turn right on Highland Drive and follow directions above.
Visitors must obtain a parking permit at the drive-up PayStation located on Highland Drive, shortly after entering campus. You may also park directly in the H-14 parking lot using ParkMobile Zone 4099.
For more information, please reach out to the Plant Sciences department at (805) 756-1237.
More About the Leaning Pine Arboretum
The Gardens at Leaning Pine Arboretum focus primarily on the world's five Mediterranean climate regions: Australia, California, Chile, the Mediterranean basin, and South Africa. Additionally, there is an Entry garden, a New Zealand garden, a Dwarf and Unusual Conifer garden, a Formal garden, a Primitive garden, and a Palm and Aloe garden. Featuring a varied assortment of trees, shrubs, and other landscape plants, each garden is unique while continuing the cohesive experience of the entire arboretum.
Entry Garden Welcoming visitors to the arboretum, the Entry Garden offers a quick introduction to each of the various gardens, showcases some of the most interesting plants found in the arboretum, and demonstrates ways to combine and blend plants from all of the world's Mediterranean climates.
Australian Garden Featuring colorful flowering plants including several bottlebrush, grevillea, and correa, the Australian Garden is a haven for hummingbirds. Other highlights include numerous species of exotic banksias, emu bushes, and a grove of one of Australia's more unusual trees, Brachychiton rupestris. Ranging in texture, color, and shape from kangaroo paws, to grass trees and a coral tree, many of the plants found in this garden offer attractive and unusual flowers, seed pods, and foliage throughout the year.
Californian Garden This garden is designed to resemble many of the natural plant communities found throughout California. Here you may walk through a lush redwood grove, view a grass meadow, or overlook a restoration bank that demonstrates the strength and adaptability of our state's native flora. The Ceanothus collection produces a must see show of blue flowers in the spring. While some of the other collections include Agave, Arctostaphylos, Quercus, and Salvia.
Chilean Garden Growing along the top of the arboretum, the Chilean Garden displays many plants from the Chilean matorral ecoregion - an area of central Chile with a climate very similar to California. Representative plants include trees, flowering shrubs, pineapple relatives from the bromeliad family, and geophytes. Cantua buxifolia 'Hot Pants' produces hot pink, pendulous trumpet shaped flowers in spring and summer, while Luma apiculata displays creamy white, star shaped flowers from mid-summer to fall.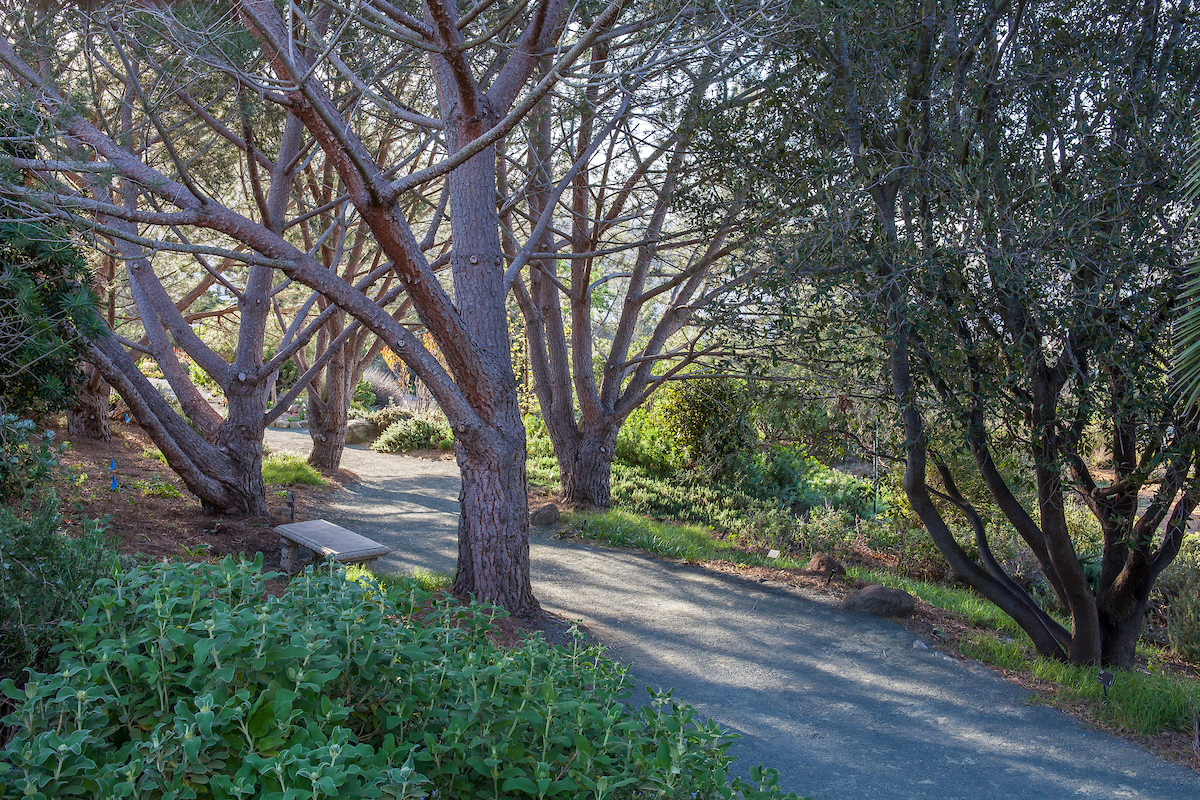 Mediterranean Garden Encompassing plants from the Mediterranean basin, this garden highlights many old favorites including several cultivars of rosemary and lavender, an olive grove, as well as many lesser-known mediterranean plants.  Additionally, the garden features a variety of picturesque trees including: blue Atlas cedar, Lombardy poplar, Italian cypress, cork oak, Canary Island palm, almond, Italian stone pine, and madrone. Enjoy sweeping vistas of the Morros and the Cal Poly campus from a seating area near a small, bubbling pond.
South African Garden At the far end of the arboretum, the mesembryanthemum bank in the South African Garden puts on a stunning display of vibrant spring color. Large pots of unusual succulents, plants from the restio family, seasonal geophytes, along with proteas and their relatives offer continual color, exotic flowers, and interest throughout the year. Stop to smell the large "grape kool aid" shrub (Psoralea pinnata) and marvel at the size of the sugar bush flowers (Protea repens).
Formal Garden Offering an interesting contrast from other gardens in the arboretum, the Formal Garden is ordered and carefully planned to create a symmetrical geometric pattern of neat, shaped, and continually trimmed hedges. Centered around a tiered fountain, a boxwood parterre is interplanted with numerous evergreen topiaries. For the best view of the garden's design, walk around to the overlook deck.
Primitive Garden Step back in time as you walk through a group of prehistoric plants in the Primitive Garden. These ancient plants include ginkgo, horsetail, gunnera and a sizeable collection of cycads. A focal point in the garden is the dawn redwood, (Metasequoia glyptostroboide) which is a deciduous conifer with golden russet foliage in fall and is the only living species of the ancient redwood genus Metasequoia. Standing on the wooden bridge, watch our seasonal creek flow after a winter rain.
Palm & Aloe Garden The Palm and Aloe Garden hosts a collection of palms from around the world, along with more than 60 species of aloes and other succulents. The aloes, with their amazing variety of foliage colors and patterns, range in height from just a few inches tall to tree types reaching thirty feet or more with massive trunks at maturity. Aloe ciliaris, climbing aloe, grows as a vine supporting itself on the trunks and stems of other plants.
Related Content