Natalia Gonzalez
New to Ag? No Problem
Natalia graduated class of 2020 and is now the Farm Manager at Templeton Valley Farms in Templeton, California.
Natalia knew she wanted to be a farmer, even though no one else in her family had ever worked in agriculture. She chose the fruit and crop science concentration because the classes are "focused on production and involve a lot of hands-on experience and practical knowledge…"
She transferred to Cal Poly from Ventura College and took advantage of the many practical learning opportunities the PLSC major offers. She completed a summer-long research internship at the Land Institute in Kansas. She participated in the Organic Farm Enterprise Project and was later hired as a student employee with the organic production team. There, she gained experience with field work, harvesting, and farmers markets. Natalia most enjoyed helping to lead activities for new students in the Enterprise Project class and getting them engaged in the farm.
In her day-to-day work at Templeton Valley Farm, Natalia references knowledge gained from her time at Cal Poly, but specifically, her notes from California vegetable production, insect pest management, pomology and plant pathology classes "come in handy the most!"
"Pest problems have been my biggest challenge so far. Phytophthora is present in the soil in a couple of locations on the farm including in our high tunnel, putting disease pressure on our cucurbits. We also have cucumber beetles that are damaging many different crops. Both of these were big considerations for me when planning our pumpkin crop. I carefully selected the site to plant pumpkins based on past crop rotation and bought insect netting to cover all of the rows."
And the best part about managing the farm?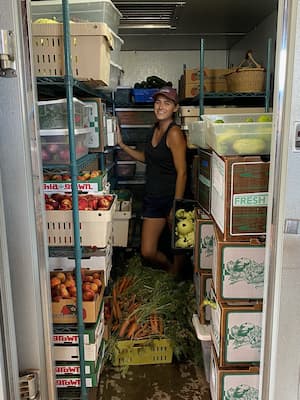 "I enjoy working with college students who are as passionate about agriculture as I am. This farm is a perfect place to bring together all my ideas and knowledge I've gained from my degree and past work experience to do what I set out to do... learn to be a farmer. There are so many opportunities to learn at this farm and it is an exciting challenge every day."
"I will miss the classes and professors. As a student, there are so many resources and opportunities available to dive deeper into learning. Via lectures and office hours you have daily access to the best information and to professors who are experts in their fields. To think about my time as a student and how easy it was to have discussions with professors and fellow students about agriculture every day, I am going to miss that forever."
Advice for current students?
Take good notes.
"Write everything down because after graduating your notes become your memory"
Related Content